Meet the Staff Member
Our Pupil Council have put together the list of questions that they would like staff to respond to.
This term Louise Edwards, Assistant Headteacher is in the spotlight: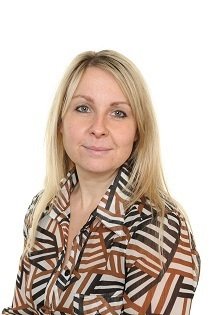 Where did you work before Woolley Wood?
I used to work at a school in Mexborough. I was the teacher of a Reception class. Then I took some time off when I had my daughter – that was almost 15 years ago now!
How long have you worked at Woolley Wood?
I've been here for about 13 years. It really doesn't feel as long as that!
Where do you work in the school?
I have two main roles in school. As Assistant Headteacher I help to support the whole school and I share the same office as David and Jackie. I also spend 2 days each week teaching in Foundation Class.
How do you get to school?
I drive to school every day, navigating my way along the M1 which can often be very busy!
What do you like to do at the weekend?
I always like to make an effort and do something I enjoy at weekends. This usually involves exercising at the start of the weekend before indulging in some lovely food, either at home or out and about when visiting different places. I also enjoy meeting up with my friends and family for long walks out in the countryside or for fun 'games nights' and book/film club evenings.
What is your favourite hobby?
I have two hobbies which I have always loved and I hope I always will……….exercising and reading. I love taking part in sporting events and different types of exercise and I always make sure I fit this in across the week. I also try to read for pleasure as much as I can. I like a bit of quiet time with my book and a cup of tea, whilst the rest of my family are off doing something they enjoy!
What is your favourite chocolate?
I love ALL chocolate!! It's so hard to choose just one!! If I really had to choose, it would probably be Galaxy Smooth chocolate.
Do you have any pets?
I have recently 'acquired' a cat. He used to have a different home but has positively decided that he prefers mine! He is a lovely grey and white cat and we have called him 'Dave'. Dave is quite the hunter and he loves to bring me lots of presents in exchange for lots of cuddles.
What was your most favourite holiday ever?
I have been to many different places and travelled to many different countries, but I think my favourite holiday was probably when I went to Cyprus. I loved this holiday because my whole family had so much fun and as we know, pleasing teenagers with a family holiday can be very challenging!! But every one of us had the best time and this is why the holiday was so special to me.
What is your favourite song?
I love any music by Ed Sheeran and one of my favourite songs is Thinking Out Loud.
What is your favourite Key Stage song?
This is tricky…..so tricky I think I have to choose two! I really enjoy singing with the children and my favourite songs are 'Whoosh Went the Wind' and 'Dr Knickerbocker'.
What is your favourite thing about working in our school?
There are so many things to like about working at Woolley Wood. One of the best things in my opinion, is that we are given the opportunity to really get to know our pupils……to understand their likes/dislikes, to know their personalities and their characteristics. Many of us here will remember our children long after they leave us.
Another fab thing is that we have lots of fun days! We love any chance to celebrate together and both staff and pupils really enjoy sharing these days.